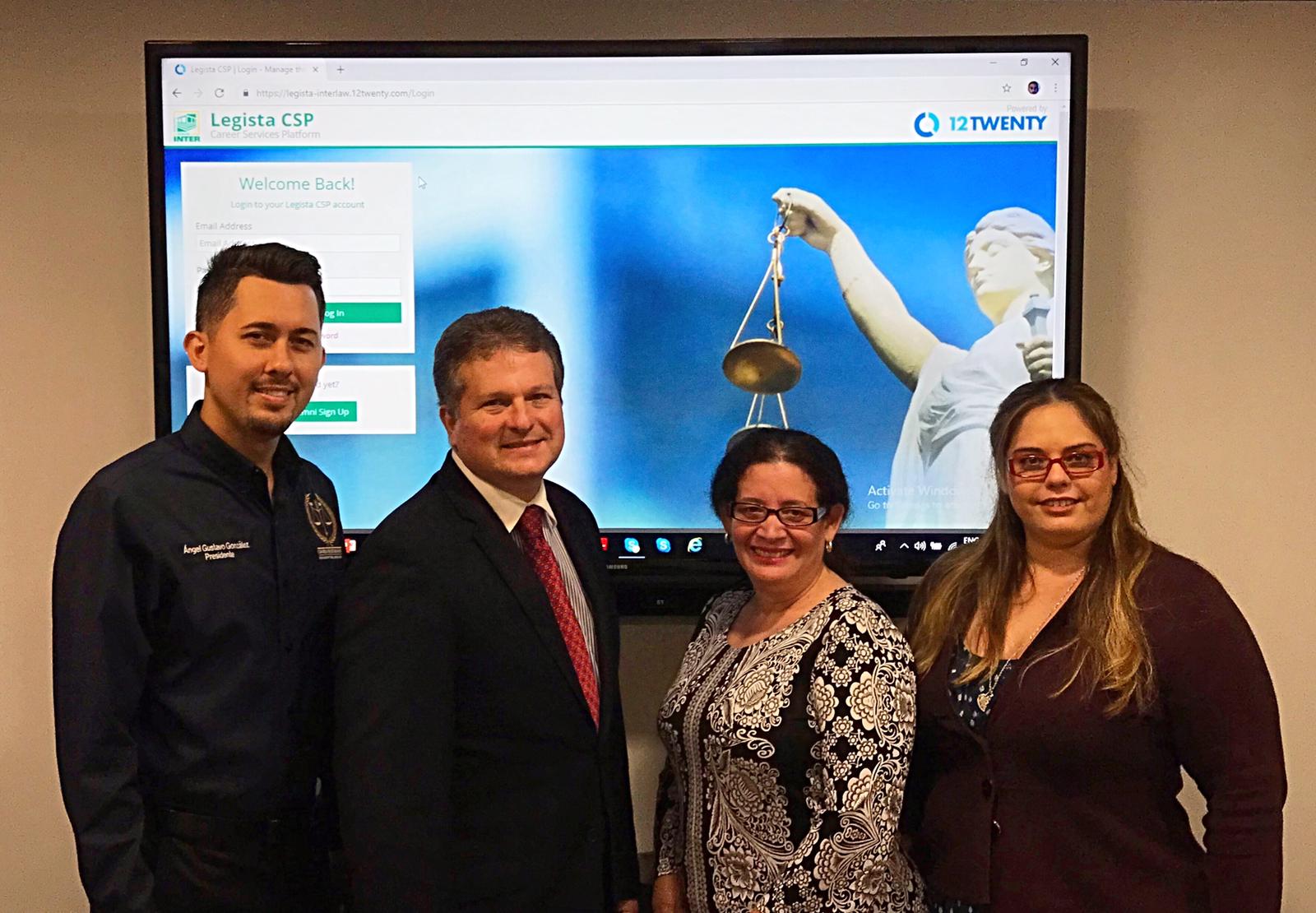 ¡Celebramos el lanzamiento de Legista CSP!
¡Celebramos el lanzamiento de Legista CSP! | El Decano de la Facultad de Derecho, Dr. Julio E. Fontanet Maldonado y la Oficina de Internacionalización, Ubicación y Empleo, anuncian con orgullo el lanzamiento de su nueva plataforma de servicios de desarrollo profesional Legista CSP. Invitamos a los estudiantes de Juris Doctor a registrarse y aprovechar este nuevo recurso para la búsqueda de empleos, internados y otros servicios.
A través de Legista CSP, los estudiantes de la Facultad tendrán la oportunidad de completar un perfil y cargar todos los documentos para solicitar empleo, entre ellos resume, carta de presentación, muestras de escritos y transcripción de crédito. De esta forma, podrán hacer su proceso de búsqueda y solicitud de empleo de una forma más eficiente y rápida. También podrán reservar su espacio para participar de las actividades de desarrollo profesional que organice la Facultad de Derecho. De otra parte, patronos interesados en reclutar estudiantes y/o egresados, pueden registrarse y anunciar sus oportunidades de empleo a través de la plataforma.
Con esta novedosa herramienta de apoyo a los estudiantes, la Facultad de Derecho de la Universidad Interamericana de Puerto Rico se coloca a la vanguardia de los servicios de desarrollo profesional para estudiantes de derecho.
Patronos y estudiantes que tengan preguntas sobre Legista CSP, pueden escribirnos a: legista@juris.inter.edu.
Portal de Legista CSP para estudiantes
Portal de Legista CSP para patronos
---
Inter Law celebrates the launch of Legista CSP! | The Dean of the School of Law, Dr. Julio E. Fontanet Maldonado and the Internationalization, Placement and Employment Office proudly announce the launch of their new professional development platform Legista CSP. We invite all Juris Doctor students to register and take advantage of this new resource for job search, internships and other services.
Through Legista CSP, Inter Law students will have the opportunity to complete a profile and upload all the documents to apply for employment, such as a resume, cover letter, writing samples and transcripts. Using Legista CSP, they will be able to complete their search and application process in a fast and more efficient way. They may also make reservations to participate in the professional development activities organized by the School of Law. On the other hand, employers interested in recruiting students and / or graduates can register and announce their employment opportunities through the platform.
With this new student support tool, the Inter American University of Puerto Rico School of Law stands at the forefront of professional development services for law students. Employers and students who have questions about this tool may write to: legista@juris.inter.edu.